<![if !vml]>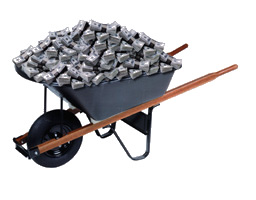 <![endif]>TAC Collections offers a pre-paid Debt Collection System designed to help you effectively collect your accounts receivable - and to do so in the most economical manner. After all...it's YOUR money! Our system consists of a series of letters tailored to meet the needs of your business. Every TAC System carries with it a variety of client benefits and services designed to aid you in effectively collecting your money. These benefits include:

<![if !vml]>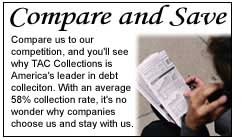 <![endif]>ECONOMY
TAC collects past due and delinquent accounts REGARDLESS of SIZE, AGE, or LOCATION for a flat rate of about $13.00 per account.

FREE EVALUATION
Our experts evaluate your current collection techniques, and counsel you on how to prevent some accounts from ever needing third party intervention.

LONGEVITY
Founded in 1964, TAC pioneered the concept of low cost, flat rate debt collection. We continue to serve the needs of businesses large and small - nationwide!

GUARANTEE
Our ironclad guarantee of performance protects your investment in every TAC System purchased. Please contact us for the terms and conditions of this remarkable feature.

EFFICIENCY
All money is paid directly to YOU, the creditor, meaning YOUR money is under YOUR control...FASTER!

GOODWILL
TAC utilizes a "soft sell" approach, maintaining your customer's confidence and co-operation.

ONLINE ACCOUNT MANAGEMENT
Securely and conveniently up date your existing accounts using our password protected "Clients Only" page.

TRAINING
In-house training of your personnel dramatically increases the effectiveness of the TAC System.

STATUS
Monthly status reports keep you apprised of all your active accounts.

ATTORNEY
All TAC clients are entitled to elect our automatic attorney referral service for those accounts which remain wholly or partially uncollected at the close of the letter series. Please contact us for details of this convenient service.